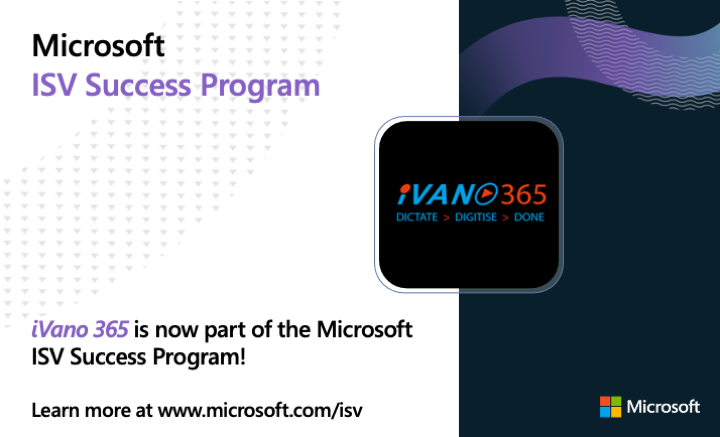 🚀 Exciting News! 🚀
We are thrilled to announce that our iVano 365 dictation management workflow software is a proud member of Microsoft's ISV Success Programme.
Being a part of Microsoft's prestigious ISV Success Programme has provided iVano 365 software with unparalleled support and resources, enabling us to showcase our dictation management software and smartphone app on Microsoft's Azure Commercial Marketplace and AppSource.
Our journey with the programme has been nothing short of incredible. The guidance and expertise offered by Microsoft have helped us optimize our product offerings and expand our market reach with iVano 365 now available in 141 locations around the world.
We are immensely proud of the recognition and opportunities that come with being a member of the ISV Success Programme. It serves as a testament to our dedication to delivering cutting-edge solutions and our commitment to client satisfaction.
Collaborating closely with Microsoft and leveraging their global platform has opened up new avenues for growth and innovation. We are excited to continue our journey, pushing boundaries and redefining what's possible for our clients.
A big thank you to Microsoft, especially Alaric Wilson, the entire ISV Success Programme team and the team at Tackle for their unwavering support and guidance. We look forward to achieving even greater milestones together!
If you haven't already, I invite you to explore the iVano 365 experience by signing up for a free trial.  Witness first-hand how our solutions ensure organisations such as legal firms and medical practices increase productivity and save money.  Feel free to connect with me or visit our website at https://ivano365.com to learn more.